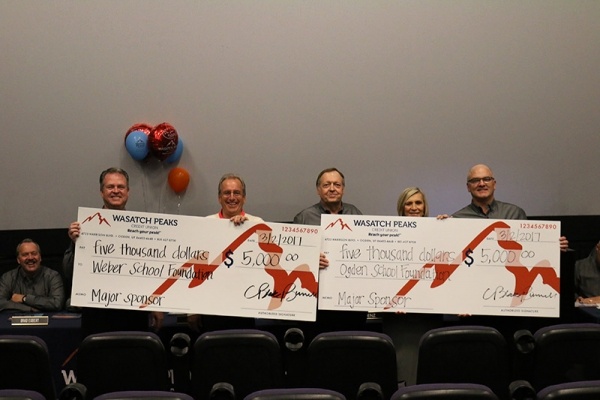 Our 87th Annual Meeting was an exciting event held at Walker Cinemas in North Ogden. It was a pleasure to see our members and their families come to the meeting, take part in the election of our Board, and enjoy watching a movie together. Members were welcomed to the event in the check-in area in the lobby, where they received a gift and a ticket for the prize drawings. Once they were checked in, guests received their complimentary movie tickets, popcorn, and a drink. Our members and their families enjoyed a private screening of "The Lego®Batman Movie" or "The Great Wall".
It was a fun evening for members and their guests, staff, management, and Board of Directors. Attendees enjoyed a beautiful arrangement of The National Anthem sung by Kristine Bowman.
T-shirts, balls, cups, lanterns, and over $2000 in cash were given away to members! The highlight of the evening was the presentation of $10,000 from Wasatch Peaks Credit Union to local school foundations. Ogden School Foundation and Weber School Foundation were each given $5000. We love supporting education programs in our community.
Thanks to all who attended and made this special night a success! As always, the board members, management, and staff of Wasatch Peaks Credit Union were delighted to show appreciation to our members by hosting an event members of all ages could enjoy.