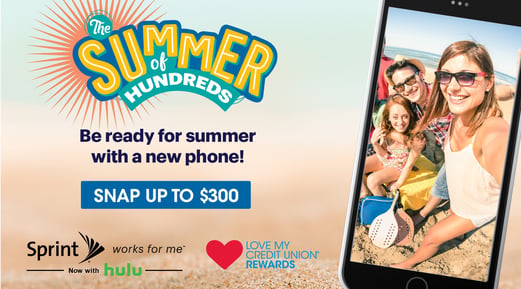 It's summer lovin' for Wasatch Peak Credit Union members. When you switch to Sprint®, you can get up to $300 in cash rewards for activating new lines.*
That's Sprint's best plan with unlimited talk, text, data, and HD-streaming including Hulu!




During The Summer of Hundreds, you get:
• Up to $300 in cash rewards for new lines activated with Sprint*
• $50 loyalty cash reward every year for each line activated or transferred*
• Current Sprint customers receive a $50 cash reward for lines transferred into the program*
• 25% discount on eligible accessories
*Three lines total, including all activated and transferred lines.
Here's how to sign up for Sprint cash rewards.
1. Become a Sprint customer and mention that you're a credit union member
2. Register at LoveMyCreditUnion.org/SprintRewards
3. Allow six to eight weeks to see cash rewards directly deposited into your credit union account