2020 Board Member Candidates



Nanette Combe - Incumbent
Nanette has 22 years of experience working for credit unions, with another 3 years served on the Wasatch Peaks Credit Union Board of Directors. She has worked closely with members, employees, and board members of Wasatch Peaks. Her most recent position was the Branch Manager of the Roy Branch. Nanette graduated from Weber State University in 2007, receiving her Bachelor of Science degree in Accounting. Mrs. Combe is a lifetime member of the National Ski Patrol. She enjoys doing activities with her family, traveling with her husband, reading, and spending time with her grandchildren.

Brad Egbert - Incumbent
Brad has served on the Ogden Government Credit Union, Alliance Credit Union, and now Wasatch Peaks Credit Union Board of Directors since 1994. Mr. Egbert worked for the IRS for 11 years and the United States Postal Service for 26 years where he retired in 2009. Currently, Brad is self-employed with his own successful tax preparation business. Mr. Egbert is a graduate of Ben Lomond High School and Weber State University. He is married with two children and enjoys golfing and relaxing at his cabin in the Uinta Mountains.

Michael E. Enz - Incumbent
Michael is a Farr West resident and Weber State University graduate with a bachelor's degree in Telecommunications Management. For 30 years he has worked at McKay-Dee Hospital where he currently manages the phone systems and cabling network for many Intermountain Health Care facilities. He is known as the "Voice of McKay Dee." Since 2008, Michael has served on the Board of Directors for SummitOne and Wasatch Peaks. His experience includes serving as Vice Chair and strategic planning on various committees. Mike enjoys spending time with his wife and 4 children, volunteering with the youth of his church, and has a love for the outdoors.

Mark Ramsey - Incumbent
Mr. Ramsey is the current Board Chair on the Wasatch Peaks Board of Directors where he has served for more than 15 years. He has also served on the Supervisory Committee of Alliance Credit Union. Mark is a lifelong resident of Weber County, graduate of Roy High School, and attended Weber State University for three years. Mr. Ramsey has been employed by the Ogden City Police Department for 30 years and currently serves as an Investigator in the Youth Crimes Unit. Mark is married with two children. He enjoys hunting, fishing, church, and activities with his family.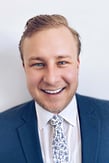 Bridger Musgrave - Candidate
Bridger was born and raised in Weber County. His experience in marketing and design work has been utilized by The Grand View Reception and Event Center and in implementing the Ogden Farmers Market. Bridger now owns and operates a popular fitness and wellness company called The Fit Club Program that is growing throughout the United States. He has successfully opened, owned and operated multiple FiiZ Drinks locations and is now currently over franchise sales and operations for the company.
Bridger is married to his high school sweetheart. They have one son and another on the way. He seeks opportunities to spend time with his family and to serve in the community. He enjoys spending time outdoors and is continually seeking to expand his knowledge.
Election Instructions: There are five (5) candidates running for four (4) seats. You must be 18 years or older to vote. You must be a Wasatch Peaks member in good standing. One vote per member. Duplicate ballots from the same member will be invalidated. You may vote online, by mail, or by dropping off your ballot at any Wasatch Peaks branch.
To vote online CLICK HERE.
Any questions regarding the election or the duties and responsibilities of the Board of Directors may be directed to the Nomination Committee. Visit wasatchpeaks.com for more information.
Members may begin voting on February 3rd. Ballots must be received by midnight on Tuesday, March 3, 2020.